CODE:
SINGLE SLAB
AVAILABILITY: In stock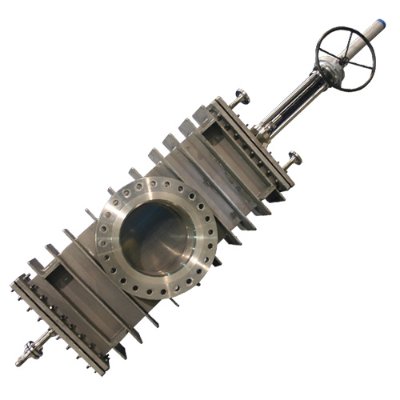 Description
These are slab gate valves specifically designed for delayed coking, ethylene an FCC cracking service.
The Strahman Single or "Slab" gate design provides the end user with a long term reliable solution for line isolation. The flexibility of the slab gate design including flange connections, materials of construction, and the choice of actuation - whether it is best suited for hydraulic, electric, pneumatic, or hand wheel gear operation will fit the needs of design engineers. The slab gate design also offers a much smaller footprint and can bring a substantial weight savings over the traditional ball valves and wedge style gate valves. These valves also eliminate the concerns of failure caused by a "sticky" ball or wedge gate and can be repaired at a much lower cost and much less frequently as traditional valves. The combination of the constant cleaning of the gate surface with every stroke along with the constant steam purge system plays a significant role in the low maintenance design and longevity of the valve.
Design features
The gate and seats are in constant contact to keep the particles out of the valve body

Steam purged for 100% positive shut off

Capable of remote operation for complete personnel safety

Low maintenance design for uninterrupted operations between turnarounds

Can be electric, hydraulic, or even pneumatically operated with Manual override

Standard sizes to 48"
Strahman serves a wide variety of industries and process applications, and we understand there are needs for custom designs to fit in custom applications. If you don't see your process or application, chat with us, or click Contact Us, and we would be happy to work with you on a custom design to meet your specific requirements. Please be advised that SINGLE DISC SLABGATE VALVES are engineered to spec, and therefore NOT kept in inventory. All sales inquiries must be handled through our sales team at [email protected].