CODE:
QA SERIES
AVAILABILITY: In stock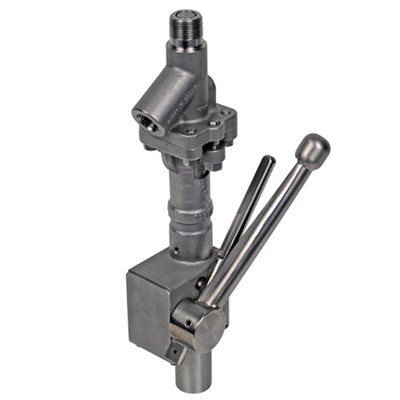 Description
Piston Type Sampling Valves are widely employed in the sampling of thick slurries and viscous materials because their design provides little to no dead space within the valve and vessel or line connection. The piston completely fills the valve and connection bores and provides a self-cleaning (self-pigging) action during the closing stroke of the valve. The common design of this type of valve also utilizes a very long stroke to completely withdraw the piston from the media flow.
Typical designs for a manually operated piston type valve used for draining or sampling liquids utilize a hand wheel attached to a threaded stem which in turn is connected to the piston. The stem typically turns in a fixed threaded bushing that is generally found in the yoke (or bonnet) or the piston itself. Rotary motion of the hand wheel causes a linear movement of the piston.
Although the effort used to draw a sample using a piston type valve is greater than using a ball valve, the advantages quickly outweigh any of the disadvantages. For instance, ball valves are operated with a quarter-turn. A ball valve allows material to accumulate around the ball which prevents a representative sample from being
drawn unless the valve is first properly purged.
Strahman's new Quick Advance Sampling Valves offer all of the features typically found in piston type sampling valves with the convenience of a quick open/close feature of a ball valve. The QA series uses a rack and gear combination to maintain the linear motion of the piston and provides the valve with a full piston design while traveling just 1/3 turn. This results in less time and labor required to collect a true, representative sample.
All QA Series Valves feature a safety stop detent that prevents the valve from opening under process pressure. The QA-700 is rated to ANSI Class 300 and is available in the same materials as Strahman's standard Sampling Valve line. The new QA Series is available with standard packing rings and zero or two inch piston extensions. Conversion kits for existing valves are also available.
Strahman serves a wide variety of industries and process applications, and we understand there are needs for custom designs to fit custom applications. If you don't see your process or application, chat with us, or click Contact Us, and we would be happy to work with you on a custom design to meet your specific requirements.